NUTRITIONAL CONSULTING
Work with me one-on-one to achieve optimal health through a customized nutrition, supplementation and lifestyle plan. Let's work together for Hormonal Balance, Cancer & Nutrition and Digestive Issues. My office is located in Windsor, Ontario or online for anyone out of town.
*NEW* Now offering Live Blood Cell Analysis
DISCOVERY CALL: $FREE
15 minutes
Want to see if we'd be a good match? Schedule a call to find out!
INITIAL CONSULTATION WITH MEAL PLAN: $130
60 minutes + 30 minute Follow Up Session
Session 1: In this session we will get to know each other. We will discuss your expectations, goals, current lifestyle and nutritional eating habits. Together, we will get to the root cause of any symptoms you are experiencing, both physical and emotional. This session also includes a tailored meal plan. We will work together to build a 7-day customized meal plan, which includes recipes for Breakfast, Lunch, Dinner and Snacks as well as a detailed grocery list (1 hour consultation)
Session 2: After Session 1, a detailed plan will be e-mailed to you, catered to your symptoms, needs and goals. In Session 2, we will spend time going over your Intro Plan (30 minute consultation).
INITIAL CONSULTATION WITH  MEAL PLAN & LIVE BLOOD CELL ANALYSIS: $150
60 minutes + 30 minute Follow Up Session
This option offers the same consultation PLUS it includes a tailored meal plan AND live blood cell analysis reading. This session is the best bang for your buck and the most comprehensive session for your health. Keep in mind, it is best to fast at least 2 hours before Live Blood Cell Analysis, be sure to stay hydrated and drink lots of water!
FOLLOW-UP SESSION: $60 / $80
45 minutes / 60 minutes
In the follow-up session we will talk about what is working for you and address the areas in which you need more support. We'll keep building on the initial recommendations and address areas that need further improvement or adjusting.
LIVE BLOOD CELL ANALYSIS: $60
30 minutes
This stand alone Live Blood Cell Analysis session is a great option if you're already working with a practitioner and want more detail to see what's going on inside your body. Come see me before your practitioner and give them the detailed results!
So what is Live Blood Cell Analysis? Live Blood Cell Analysis uses the latest technology to examine your blood cells. A small sample is taken from your fingertip and examined under a microscope. Afraid of needles? Not  to worry! All I need is a small drop of blood taken from your fingertip using a small lancet, it only takes a few seconds and then it's done! With one small sample, the blood cells are magnified 1,500 times and projected on to a computer screen.
What may be determined from Live Blood Cell Analysis:
Digestive Issues
Food Metabolism
Hormonal Balances
Liver Condition/Stress
Detoxification Functions
Fatigue
State of Your Immune System
Bacteria & Parasite Levels
Yeast Balance, Acidosis
Environmental Sensitivities
 & more!
* If you have a busy schedule or do not live in the Windsor, Ontario area, I also offer consultations over the phone or via Skype.
To book an appointment with me, email me at nutritionmoderation@gmail.com or call (226) 774-5888.
Click the Fullscript image below to invest in quality naturopathic grade supplements. Shipped directly to your house for free or for $3.99 if below minimum order.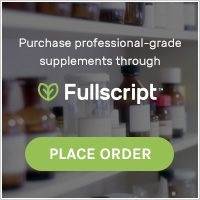 Where you can find the clinic: